UniGripper Co/Light - The Standard Vacuum Grippers for Cobot Applications
UniGripper Co/Light is the next generation of UniGripper LightWeight targeted for low-payload robots in general and collaborative robots, cobots, in particular.
UniGripper Co/Light is designed without sharp edges to enable gentle collaboration combined with impresive vacuum focre and ultra-low weight.
UniGripper Co/Light combines the possibilities of additive printing with the strength of aluminum to give a low-weight, yet strong design.
UniGripper Co/light comes in two sizes:

Regular - for lifting anything from small to relatively large objects
Mini - when only handling smaller objects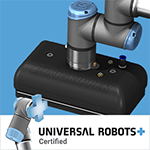 Resources for Universal Robots
The Unigripper Co/Light system is a certified UR+ system. Resources specifically for Universal Robots can be found here: www.unigripper.com/UR